Dhaka is the capital city of Bangladesh at the side of Buriganga river. In a 306.38 square km city, more than 20 million people live. It is the most densely populated city in the world. Truly, it is a city of the problem including Traffic Jam, Chaos and Crowd. In general, when a foreigner visits Dhaka City for the first time, they think how they will pass the days. Not to mention, after passing several hours, they realize it has a lot of reason to see the city closely. Because it is an exceptional environment and the people will accept you cordially. For this reason, I will try to describe the things you can do in Dhaka City which will be memorable in your life. When you are visiting Bangladesh for traveling various places here, I will suggest taking the taste of Dhaka City at least one day. Surely, it will be a completely different culture and experience in your whole life. Let's see the best things to do in Dhaka City.
Things to Do in Dhaka City:
First of all, it is not an easy task to make a list of only 9 things to do in a big city like Dhaka. But I have just pointed a small list. Hope I will update and consider the things regularly.
1. Ride a Rickshaw
Rickshaw is the most used and popular transport for all types of people in this city. People describe it as the city of Rickshaw with fun. Important to realize, the rickshaw is not available in the main street. But it can move anywhere in the Dhaka city. It is very cost-consuming transport in Bangladesh. For this reason, you can take a look of the Dhaka with a rickshaw. The man who drives the Rickshaw is mentioned as Rickshawalla. Generally, they are very poor, simple, but surely very friendly and helpful. By considering some aspects, we have kept riding a rickshaw in the first place of things to do in Dhaka City.

2. Explore the Old-Dhaka
When you want to know about Dhaka city, it is rewarding to explore the back-streets of Dhaka city. Some places of this old city carry the history of the hundred years. For example, Chawk Bazar, Islampur Bazar as well as Begum Bazar. At the same time, Bongshal road, Hindu Street (Shakhari Polli), Bahadur Shah Park is an interesting place to explore. If you are a photographer and want to hold some amazing historical moment, old Dhaka can be best suited for you. With attention to, the city is established in 1608 as  Jahangir Nagar. Not to mention, it was the capital of Mughal Bengal. The development of Old-Dhaka started by the British Ruler from the mid-19th century.

3. Boat ride at Buriganga river
Buriganga river is the soul of Dhaka city, especially for the people of Old Dhaka. Thousands of business are depending on this river. Important to realize, the people who are leaving Dhaka city on the other cities are riding launch or boat from this river at Sadar Ghat. As an important place in Dhaka city, the area is as usual crowdy. But you get the real taste of Old Dhaka here. At the same time, riding the boat on Buriganga, you will get an amazing thing in your life. In general, the people of both side of the river use boat to go and come Dhaka city. With this in mind, the river and boat are very busy, so keep some times if you want to enjoy the ride.

4. Taste Biryani (You should not miss)
Biryani is the royal food of Dhaka people, especially for the old Dhakaiya (The local people of Dhaka is mentioned as Dhakaiya). The Dhakaiya people eat Biryani in all types of their meal. Even they eat it in their dream. :p So, if you come here and don't taste Biryani, I think you have missed all of your hard work. Really, it is the taste of Dhakaiya Food. So don't forget to take it. You can also see this post for knowing other special foods in Dhaka City.
Happy to say, the Mughals bring Biryani as a food item here. Now the Biryani is one of the parts of life for the people of Dhaka. It is prepared with rice, meat, and spices. Not to mention, first the rice and meat are cooked separately and then after creating the layer is cooked all together. If you want to taste the real Biryani Hajir Birani or Nanna Biryani is the most popular from the decades.
Read More About Travel On Kutubdia Island.
5. Drink Tea on a street tea stall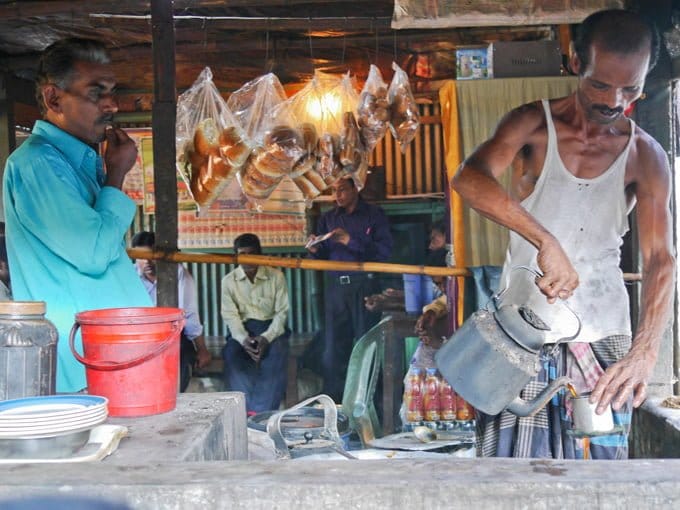 Drinking tea in every moment is a habitual part of Dhakaiya people. In general, it is one of the street food items here. For taking light food or snacks, they prefer tea stalls. It is not any formal hotels. Just feel you need to drink tea. They will provide you within minutes. On the other hand, you can take some cakes or biscuits or similar items for making the tea tastier. You have to skip the environment, just feel the taste. It is very interesting to drink tea in Dhaka city. You will really bear it in your mind.
See Also: Malnicherra Tea Garden Estate Sylhet

6. Eat the Local Food as like a local People
Do you want to taste the local food in Bangladesh as like a local? It is very special, healthy, and delicious as well. Besides, the price will satisfy you. You will get a lot of hotels and restaurant who provide local food. You will find plain rice with different types of curries. They will also serve you Daal and Vorta. You can also take meat or fish and it's not a bad idea. If you want you can use the hand for taking your food. It is the tradition of Bangladesh. Of course, they use their right hand for eating food.

Read More: Lakkatura Tea Garden Sylhet – A To Z Travel Guide
7. Shop Local Garments (Made in Bangladesh)
Most probably you know, Bangladesh is very famous for garments products. They are distributing the cloths in the whole world. The demand for Bangladeshi dress is on the high also. For this reason, if you come to Bangladesh, you can buy some clothes or daily items from here. It will be memorable. Do you know Jamdani a special type of gorgeous Bengali dress which is very famous from hundred years? You can go to the Jamdani Polli for watching their lifestyle and buying some for you, your friends and family. By the same token, you can also visit the different shop in the Dhaka city for buying some for you.
8. Fun in the City
All the above things are for your enjoyment as like a Bengali. On the other hand, you can pass some moment with western culture. For example, you can enjoy Billiard in the Bangladesh Billiard Center Ltd. You can enjoy cycling with some of the world-class cyclist team including BD CYCLISTS (They have broken the record for longest line of moving bicycles). You can also watch a 3D movie in this city including Star Cineplex. Similarly, you will find the cultural center of different countries in Bangladesh including the US, German, Indian, Russian and many more. You will also find some Restaurant and Bar for enjoying the night in the Gulshan, Banani, or Dhanmondi area. Then again, you can go to the museum, park or theatre in Dhaka city for spending quality time.

9. Meet the Local People
Dhaka is a densely populated country. They are living a hard life here. They are struggling every day for making their livelihood. If you want to know about them and what they think about their future or the philosophy of their life, you can meet some of them. The people of Bangladesh are very cordial. So, you have no problem to get the company of them. You can meet the people anywhere you go, eat or visit in the Dhaka city. I can assure- you will get another meaning of life. But I should suggest you, choose the man carefully as some of them may be dishonest. But they are very rare and try to justify it with your intelligence. You may also tell your guide to find some people or family where you will enjoy some times.
See More: Satvaikhum Bandarban (Sat Vai Khum) – A To Z Travel Guide
What're your Feelings now?
Hi Guys, Now I will wait for hearing about your experience in Dhaka city. If you get anything extraordinary which I have missed, you can share with us. Don't forget to share your thoughts about the Dhaka city from the comment section. Accordingly, if you are reading this post and want to make a tour in the Dhaka city, you can contact the Travel Mate team for making a tour plan for you. At the same time, for traveling any part of Bangladesh, TravelMate team is ready to support you. Advance welcome to the city of hospitality. 🙂