Who does not want to be lost in a white cloud-like cotton? Sajek Valley, currently the most popular destination for pilgrims/travelers, is located in the biggest union of Bangladesh, Baghaichari Upazila of Rangamati district. It is on the border of Mizoram in the north of Rangamati district. The north side of Sajek is Tripura, Langadu of Rangamati on the south, Mizoram of India on the east, Khagrachori Dighinala on the west. The height of Sajek Valley from sea level is 1800 feet. Though the location of Sajek is in Rangamati district, it is very easy to travel from Dighinala to Khagrachari due to geographical reasons. Sajek is 70km away from Khagrachari district and 40 kilometers from Dighinala. If you want to go to Sajek, you will have to get permission from the Baghaihat Police or Army camp.
Sajek Valley Group or Family Tour: Call

09678388388, 01766990725
Sajek is the biggest union of Bangladesh whose size is 702 square miles. The area is formed with the combination of Sajek Ruiluipara and Konglak Para. Established in 1885, the height of the Ruiluipara is approximately 1720 feet from the sea level and the height of the Konglakpara from the sea level is approximately 1800 feet. Mainly, Sajek is the living place of indigenous people including Lusai, Pankhwa, and Tripura. The banana and orange of Sajek are very famous. Many parts of Rangamati are seen from Sajek Valley. So the Sajek valley is called the roof of Rangamati.

The attractive places of Sajek:
In Sajek, the beautiful mountain in a row, the valley of clouds like white cotton will surely fascinate you. Sajek is a wonderful place where it is surrounded by three types of nature. Sometimes it is very hot or it will probably be wet in the rain and unexpectedly in the twinkling of the white clouds with a thick fog will be covered. Sajek Valley Tour is the ideal to watch the flutter hilly clouds like natural landscapes and cotton.
See Also: Top 15 Waterfalls In Bangladesh.
Konglak hill is a major attraction for tourists who are visiting Sajek. Konglak, the last village of Sajek Valley, is the area inhabited by the Lusai community. From the Konglak Hills, you can watch the originates of Karnafuli river, the Lusai Hills of India. If you want to trek through Ruului Para for two hours, you can enjoy the Kamalak fountain. This beautiful fountain is also known to many people as Padaam Toisha Jharna or Sikam Toisha Jharna.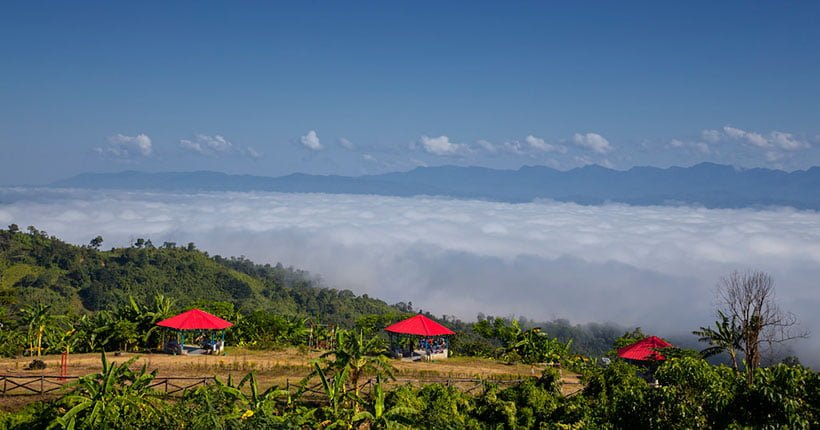 Day or night Sajek is like an awesome art painted by an artist, with the passes of time, Sajek is not old. If you go to Sajek, don't miss the dawn. The white clouds and the sunrise/sunset light creates an amazing environment. To see the sunrise, you have to go Hollypad early in the morning. In the afternoon, the color of the sunset from a high land will make you seduced. And after the evening, the billions of stars in the sky will shine, your life will shake you. If the sky is cleaned, you may watch the MilkyWay or the galaxy. You can look around and live the life of indigenous people. It will give you unforgettable feelings by getting the touch of those simple people. And when there is a time in your hands when returning from Sajek Valley, you can watch the Hazachara Jhorna, Dighinala hanging bridge, and Dighinala Banbihar.
Perfect Time To Visit Sajek Valley:
Sajek is beautiful in all the season. According to the seasons, it gets a new color that is attractive and exceptional. So, it is no matter if you are going in the Summer or Winter, you will get a new taste of Sajek. But in the Rainy, Autumn, and Late autumn, you will feel the white clouds very closely. So, it is considered as the best time to visit Sajek Valley. There is no problem if you go another time to travel Sajek.
Read More: Jadipai Waterfall Bandarban.

How To Go To Sajek:
Dhaka To Khagrachari (Sajek)
Though Sajek is located in the Rangamati district, it is much easier to travel with Dighinalala of Khagrachari district. So first you have to come to Khagrachari. If you want to go to Khagrachari from Dhaka, you can go by Saudia Paribahan, Shyamoli, Shanti Paribahan, S. Alam, Eagle, etc. on the bus. It will cost you nearly BDT 520 in the Non-AC bus. If you want to go to the AC bus you will find BRTC or Saint Martin Paribahan with BDT 700 to 900. Besides, the Shanti Paribahan goes directly to Dighinala and it takes only BDT 580. There are counters of these buses at various points of the city including Gabtali, Kalabagan in Dhaka. If you want to go on holiday, it may be difficult to get a ticket if you don't buy the ticket before.
Khagrachari To Sajek
The distance between Khagrachari and Sajek is about 70 km. You can visit Sajek Valley by reserving Jeep Gari/Chander Gari from Khagrachari. It will cost you BDT 8000 to 10000 with the returning fare. It is perfect for 12 to 15 people. But if you are in a small group, then join with another group to reduce the cost. If it is not possible to find any other group, then you can take CNG. It will cost you BDT from 4000 to 5000. However, it is better not to travel by CNG as the road is very wavy.
Besides, if you are alone or only 2-3, then many groups are available from the Khagrachari Shapla Chattor, where you can talk to other groups or share your incidents with the Zip Association office, they will manage another group for you.
Apart from you can visit Sajek going Khagrachari to Dighinala first. It is 23km from Khagrachari to Dighinala. It takes BDT 45 on the bus and BDT 100 per person in a motorcycle. You can also reserve a motorcycle to travel Sajek. Before hiring any car/bike, discuss in details about what would you do and what to look.
Sajek Valley Group or Family Tour: Call 01766990725
Important to realize, you must keep in mind, as you go, you must reach Dighinala before 10 am. You will have to go to the army's escort for the safety of the rest of the road from Dighinala. The army escorts are available twice a day. Once in the morning at 10 am, again in the afternoon. If you miss the morning escort, you have to wait until the afternoon, if you miss the afternoon, you will have to wait till the next day. Without the escort, you will not get permission to leave. When you reach Dighinala, you can visit Hazagarh Jhorna if you have time to hand.
On the way from Dighinala to Sajek, you will cross Bagaihat, Machalong Bazar, then Ruilui Bazar. It will take two to three hours to go from Khagrachari city to Sajek. The rows of hills and green skyline will make you forget all the tiredness of the road.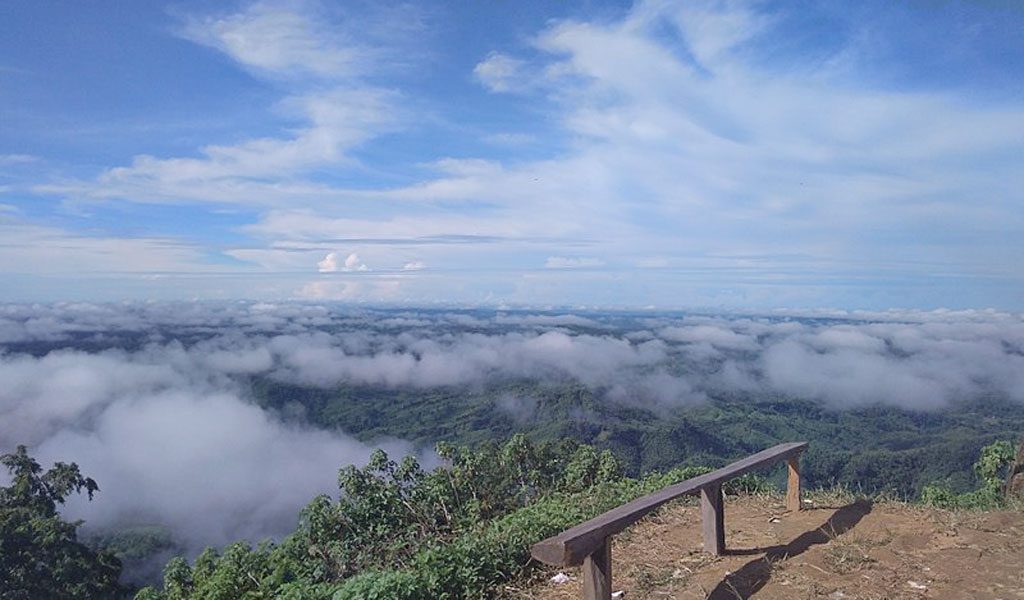 Chittagong To Sajek: 
You can go to Khagrachari or Dighinala for Sajek from Chittagong. Daily 4 BTRC AC Bus left Kadamtoli, Chittagong for Khargrachari. Besides, from the Oxyzen Mor of Chittagong, the buses of Shanti Paribahan goes for Chittagong after every 1 hour. It takes 4 to 5 hours to go from Chittagong to Khagrachari.
Rangamati To Sajek: 
From Rangamati both launces and buses left in the waterways and the roadways for Baghaichhari. The launches left from Reserve Bazar Ghat around 7:30 AM to 10:30 AM. It takes 4 to 5 hours. Besides, from Rangamati bus terminals, the buses leave between 7:30 am and 8:30 am. It takes 5 to 6 hours. Otherwise, it is also possible to go Baghaichhari directly from Dhaka or Chittagong. From Baghaichhari, there are available Jeep, Motorcycle or Chander Gari to reach on the Sajek Valley.
Where will you stay?
There are more than 40 resorts and indigenous cottages to stay the night in Sajek. If you want to go on holiday, it is better to have a booking earlier than a month to get a quality room. If you want to stay at a lower price indigenous cottages can be suitable for you. Besides, new cottages are being added considering the environments. All the cottages assure fairly beautiful view of Sajek. Among the most popular resort and cottages, we have made an efficient list including Sajek Resort, Runmoy Resort, Megh Mechang, Jumghor Eco Resort, TGB Lushai Cottage, Meghpunji Resort, Resort Rungrang, Alo Resort, Affordable Cottages of Indigenous People.

What will you eat?
All the resorts have the food arrangements, so if you say it in the resort before cooking, they will serve according to your preferences. It will cost you nearly BDT 100 to 200 in each meal. As a menu, you will find rice flour, chicken meat, etc. If you desire, you can arrange Bar-B-Q tonight. You can also eat in the house of the indigenous people. You have to tell them about your menu and they will offer you the best foods. The fruits including Papaya, pineapple, and banana are very cheap, don't forget to taste.
Tips for Traveling Sajek:
Want to make a group or family tour in Sajek?
Sajek is a perfect place for a group or family tour. The beauty of this place will give you awesome feelings. At the same time, you can come back within a day by visiting here. Hopefully, you can go to Sajek within a tight budget. If you want to travel Sajek with safety and want to enjoy the place with more joy, Travel Mate can help you with arranging the tour. Contact us for further details. Above all, you may add any missing information from the comment section. Happy Traveling. ♥