Ratargul is the only Swamp Forest in Bangladesh. It is located in Gowainghat Upazila, about 26 kilometers away from Sylhet district town. It is extended around 30,325 acres of land. The forest is full with 504 acres and the remaining area is full of small ponds. But in the rainy season, the whole area seems to be the same. Ratargul is known as 'Sundarbans of Sylhet'.
Ratargul stays underwater for four to five months. The tourists from different parts of Bangladesh come to these forest areas to see the trees which are submerged in the water. Many tourists call Ratargul as Amazon of Bangladesh. In the rainy season, many species of trees were seen in the branches of trees and some wild animals are also seen in trees.
During the winter, there are thousands of guest bird in the pond of Ratargul. Normally, from July to October is the perfect time to visit Ratargul (near the end of the rainy season of the year).  In 1973, Bangladesh Forest Department declared 504 acres of forest land in Ratargul as wildlife habitat.
You can contact Travel Mate for Ratargul Tour Packages, Hotels, Bus Tickets, Air Tickets or any corporate or event or family trip. or Call +88 01766-99-0725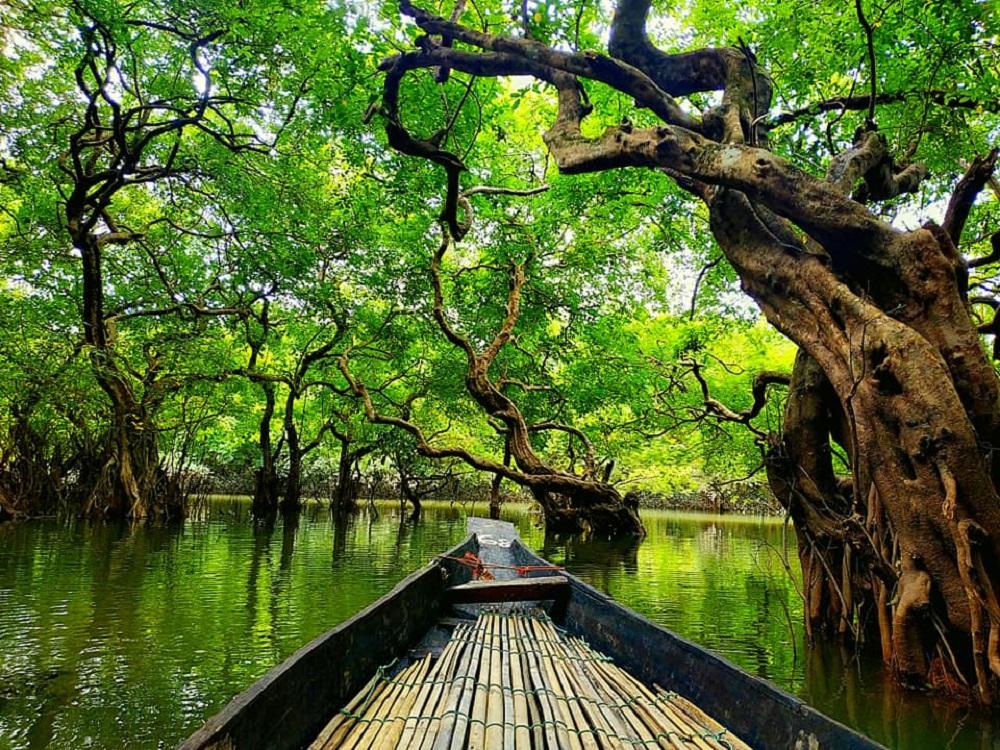 Ratargul is a natural forest; Local Forest Department here planted several trees including Hijal, Barun, Karoch. Apart from this, there are 25 species of water-soluble plants, including Kadam, Jalibet, Arjun.
How To Go Ratargul:
From Dhaka to Sylhet, there are some bus services that leave from Gabtali and Sayedabad bus terminals. From Fakirapul, Sayedabad and Mohakhali bus stations, you will find the Green Line, Saudia, S. Alam, Shyamoli and Ena Paribahan. If you go with AC buses, it will cost you between BDT 800 to 1100 and with non-AC, it will take BDT 400 to 450.
If you want to go by train, from Dhaka to Sylhet, you need to go from Kamalapur or Airport Railway Station by Upabon, Jayantika, Parabat or Kalni Express train.
From Chittagong to Sylhet, you can also go by train. You will find two trains including Pahari and Udayan Express that go six days a week.
If you look for the easiest and fastest ways, you can go by Plane. From Shahjalal International Airport, you will find Biman Bangladesh, Regent Air, United Airways, Novo Air and US Airplane Air Biman that leave from Dhaka to Sylhet daily.
Check more about Kuakata Sea Beach.
Sylhet To Ratargul:
There are two ways to go to Ratargul from Sylhet. First of all, you can reach in a very short time with the inner roads of Khadim Tea Gardens and Khadimnagar National Park beside Sylhet city. On this route, go to Shringi Bridge with CNG auto-rickshaw or Jeep. You can go to Ratargul from Sylhet and come back in the afternoon. The cost for CNG or Autorickshaw for the whole day will be from BDT 1200 to 1500.
And if you want to ride a local CNG from Amberkhana in Sylhet, then you will need BDT 100 per person to reach the Shringi Bridge. You will find fishermen's small boats to enter the Ratargul from Shringi Bridge. The boat is perfect for 4 to 6 persons. The price of a boat is from BDT 400 to 800.
The second route to Ratargul from Sylhet is to go to Sharighat via Jaflong. From Sylhet to Sharighat, it will cost BDT 40 to 50. Go to the Gowainghat from Sharighat by Baby Taxi. Then you have to take the boat for going to Ratargul. For 10-12 people, the cost of a boat will need around BDT 800 to 1200. In this route, it takes more time and cost.
Apart from this, you can also go by CNG from Sylhet's Bandar Bazar point to Motorghat, you will get Dingi Boat for going Ratargul.
Important to realize, it is no matter, in which route you are using for going Ratargul, you have to take the fishermen small boats to enter the forest.
Read more about Top 10 Most Famous Colorful Festivals in the world.
Where Will You Stay:
There is no opportunity to stay in Ratargul area. You have to stay at Sylhet. There are many standard and affordable rest houses in Lala Bazar area and Darga Road. Where you will find different types of rooms at BDT 400 to 1000. According to your needs and ability, you can also stay in Hotel Hill Town, Gulshan, Darga Gate, Surma, Kaikobad, etc.
What Will You Eat:
At Sylhet Zindabazar, you can enjoy different local foods with affordable cost including Pansi, Pach Vai, or Palki Restaurant. There are about 30 different types of Varta available in these restaurants.
Other Attractive Places Near Ratargul (Sylhet)

Tips for Traveling Ratargul:
After the drowning in the monsoon, the snake usually takes shelter in different tree branches, be careful about it.
There is also the lethal Leech here, be careful.
If you can go in with a group, it will reduce the cost.
If you want to buy or eat something, want to hire a boat or car or other vehicles, please do a bargain.
Be careful while bathing to the water, due to the stone lifting, many places are very deep.
Baniachong – The Biggest Village In Asia: Travel Guide
Don't throw the plastics bottle, polythene into water or anywhere. Keep it in your bag for throwing in the right place. It is our natural wealth, so, it's our duty to save.
Never misbehave with the local people. They are very simple, helpful and honest. They can increase your joy.
If you do not know swimming then keep up the life jackets. Also, take the umbrella and raincoat if needed.
There is no arrangement for food. While going, you can take some of the light foods (chips, biscuits, water, etc.). And come back to Sylhet for getting the hotels or restaurant.
Want to make a group or family tour in Ratargul?
Ratargul is a perfect place for a group or family tour. The beauty of this place will give you awesome feelings. At the same time, you can come back within a day by visiting here. Hopefully, you can go to Ratargul within a tight budget. If you want to travel Ratargul with safety and want to enjoy the place with more joy, Travel Mate can help you with arranging the tour. Contact us for further details. Above all, you may add any missing information from the comment section. Happy Traveling. ♥